CO-EDO LOOP BUS will operate irregularly on March 25th (Saturday) due to traffic restrictions associated with the "Koedo Kawagoe Spring Festival Opening Event" that will be held in the city of Kawagoe.
Please be careful not to make any mistakes when using it.
Contents of irregular operation
C02 Kura no machi, Hikawa ShrineRoute
From E1 Kawagoe Station West Exit at 10:35 (E2 Hon-Kawagoe Station at 10:41) to E1 Kawagoe Station West Exit at 15:05 (E2 Hon-Kawagoe Station at 15:11), E18 Renkeiji Temple Kita, E14 Kura no machi, and E12 Otemon bus stops will be closed due to detours. increase.
※Please use E12 City Hall Bus Stop for use around Kura no machi.
C01 Kita-in, Kashiya Yokocho Route
It will operate as usual.
※Please use the ● E12 Otemon bus stop or the ● E15 Kashiya Yokocho bus stop to use the bus around the Kura no machi area.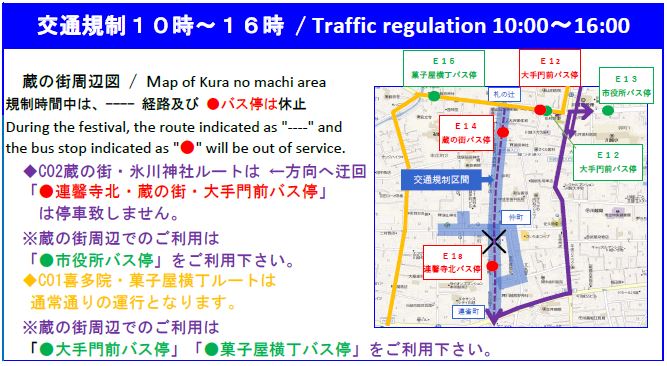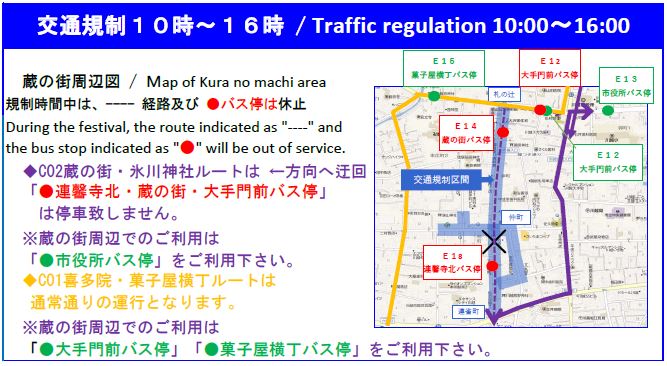 About Daily Pass
The sale and use of the Daily Pass will continue as normal.
C02 Kura no machi, Hikawa Shrine Route Timetable